Directory of Art Styles and Movements
This directory of fine art reproductions selected by periods, movements, styles and genres can help you to select the painting which is appropriate for you and also make a short journey into the development and history of art.
Last Added Art Reproductions
Oil Paintings Made to Look Old and Cracked
We are able to make your art reproduction look antique, old and cracked like the original in the museum.
Learn More about the Cracking Effect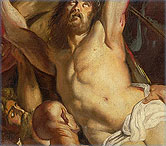 The Most Popular Paintings
Home
/
Aged Look Art Reproductions
The Antique/Cracked Effect of our Hand-Painted Painting Reproductions


We can make your oil painting reproduction look old and cracked like the museum original.

The antique effect imparts to a painting the charm of an authentic and noble appearance. Such a painting can enrich any interior with a unique style and appearance.
The process of making our oil painting reproductions old in appearance is in complete harmony with the oil painting art technology, and it is in no way harmful to the painting. Below, you can see examples of paintings made to look old in our TOPofART studio.

If you want to add the antique effect to your painting reproduction, then simply click on "Add Antique/Cracked Effect" from the menu on the detailed web page of the painting. This option is not active for every painting in our catalog as the antique effect is only appropriate for paintings with a smooth surface, and not for paintings with a rough surface and with thick layers of paint and brush-strokes as is the case with the impressionists for example.







Examples of Aged and Cracked Hand-Painted Oil Painting Reproductions Created in Our TOPofART Studio