Directory of Art Styles and Movements
This directory of fine art reproductions selected by periods, movements, styles and genres can help you to select the painting which is appropriate for you and also make a short journey into the development and history of art.
Last Added Art Reproductions
Oil Paintings Made to Look Old and Cracked
We are able to make your art reproduction look antique, old and cracked like the original in the museum.
Learn More about the Cracking Effect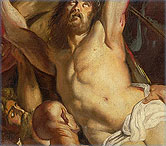 The Most Popular Paintings
Abraham Hendrickz van Beyeren Biography

c.1620-1690

Dutch Baroque Painter


Abraham Hendriksz van Beijeren (ca. 1620 The Hague - March 1690 Rotterdam) was a Dutch Baroque era painter. He was little regarded in his day but is now considered one of the greatest of still-life painters. Van Beijeren (alternatively spelled "Beyeren") lived in a succession of Dutch towns. Born in The Hague, the artist also lived in Delft, Amsterdam, Alkmaar and Gouda. In 1678 he settled in Rotterdam, where he died in 1690.

Unfortunately Van Beijeren signed his canvases with the monogram AVB and invariably failed to include a date. As a result it has been difficult to compile a chronology of his works.

While in the 1640s most of his paintings were seascapes, Van Beijeren began to develop as a skilled still life painter of fish. In the 1650s and 1660s he focused on still lifes with fine silverware, Chinese porcelain, glass and selections of fruit. He also painted a number of floral still life paintings.