Directory of Art Styles and Movements
This directory of fine art reproductions selected by periods, movements, styles and genres can help you to select the painting which is appropriate for you and also make a short journey into the development and history of art.
Last Added Art Reproductions
Oil Paintings Made to Look Old and Cracked
We are able to make your art reproduction look antique, old and cracked like the original in the museum.
Learn More about the Cracking Effect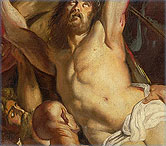 The Most Popular Paintings

Giuseppe Arcimboldo Biography

1527-1593

Italian Mannerist Painter


Giuseppe Arcimboldo (1527 in Milan, Italy - 1593) was a distinctive and eccentric painter who is best known for creating portrait heads made entirely of such objects as fruit or vegetables or flowers, or fish, or inanimate objects such as books that is, he painted representations of these objects on the canvas arranged in such a way that the whole collection of objects formed a recognizable likeness of the portrait subject.

In 1562 he became the court portraitist to Maximilian II at the Habsburg court in Vienna, and later, to his son Rudolf II, both of whom seem to have much liked Arcimboldo's extraordinary portraits.

He was also the court decorator, costume designer, and general art expert. His style of early pre-surrealist portraiture was much copied by his contemporaries, making it difficult at times to differentiate his work from that of imitators.

His paintings are in Vienna's Kunsthistorisches Museum and in the Habsburg Schloss Amras in Innsbruck. In Italy, his work is in Cremona, Brescia, and the Uffizi Gallery in Florence. The Wadsworth Atheneum in Hartford, Connecticut, also contains pieces of his work.