Directory of Art Styles and Movements
This directory of fine art reproductions selected by periods, movements, styles and genres can help you to select the painting which is appropriate for you and also make a short journey into the development and history of art.
Last Added Art Reproductions
Oil Paintings Made to Look Old and Cracked
We are able to make your art reproduction look antique, old and cracked like the original in the museum.
Learn More about the Cracking Effect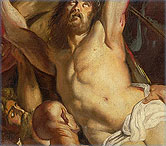 The Most Popular Paintings
Marco Basaiti Biography

c.1470-1530

Italian High Renaissance Painter


Marco Basaiti (ca. 1470-1530) was a Venetian painter and a rival of Giovanni Bellini. His best known works are Christ Praying in the Garden (1516) and the Calling of St. Peter and St. Andrew.
Christ praying in the GardenThought to have originated in the Balkans, his date of birth and arrival in Venice are not known, but he began to paint actively around 1496. He is generally believed to have learned to paint in the workshops of Alvise Vivarini. Basaiti worked primarily with religious themes, but he also did portraits. Contrary to the trends of the time, he used very bright colours in rendering his religious subjects.