Directory of Art Styles and Movements
This directory of fine art reproductions selected by periods, movements, styles and genres can help you to select the painting which is appropriate for you and also make a short journey into the development and history of art.
Last Added Art Reproductions
Oil Paintings Made to Look Old and Cracked
We are able to make your art reproduction look antique, old and cracked like the original in the museum.
Learn More about the Cracking Effect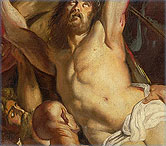 The Most Popular Paintings

Edmund Blair Leighton Biography

1853-1922

English Victorian Romanticism Painter


Edmund Blair Leighton (September 21, 1853 - September 1, 1922) was a British painter associated with the Pre-Raphaelite and Romantic styles.

Leighton was the son of the artist Charles Blair Leighton. He was educated at University College School, before becoming a student at the Royal Academy Schools. He married Katherine Nash in 1885 and they went on to have a son and daughter. He exhibited annually at the Royal Academy from 1878 to 1920.

Leighton was a historical genre painter focusing mainly on Regency and medieval subjects.