Directory of Art Styles and Movements
This directory of fine art reproductions selected by periods, movements, styles and genres can help you to select the painting which is appropriate for you and also make a short journey into the development and history of art.
Last Added Art Reproductions
Oil Paintings Made to Look Old and Cracked
We are able to make your art reproduction look antique, old and cracked like the original in the museum.
Learn More about the Cracking Effect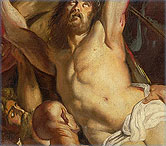 The Most Popular Paintings
Leon Francois Comerre Biography

1850-1916

French Academic Classicism Painter


Léon Francois Comerre was born in Trélon, France and lived in Paris and London. At 17, Comerre went to Paris to study under French artist, Alexander Cabanel who influenced him to paint orientalist themes. He also studied at the French Academy under Lille.
Comerre exhibited numerous works in the Paris Salons of 1874-1875 and won a grand prize in the latter year. He returned to London, exhibited at the Royal Academy, the Royal Society of Portrait Painters, and the Glasgow Institute of Fine Arts.