Directory of Art Styles and Movements
This directory of fine art reproductions selected by periods, movements, styles and genres can help you to select the painting which is appropriate for you and also make a short journey into the development and history of art.
Last Added Art Reproductions
Oil Paintings Made to Look Old and Cracked
We are able to make your art reproduction look antique, old and cracked like the original in the museum.
Learn More about the Cracking Effect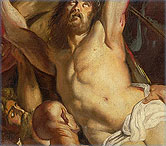 The Most Popular Paintings
Gillis van Coninxloo Biography

1544-1607

Flemish Baroque Painter


Gillis van Coninxloo was a late 16th century and early 17th century Flemish painter of forest landscapes.
Van Coninxloo is considered the founder of a new approach to the painting of forests; while earlier forest landscapes had used woods as backdrops for human activity, van Coninxloo made them a subject, submerging tiny human figures in elaborate compositions of trees in hugely exaggerated scale.
Van Coninxloo was a major influence on several better known Flemish landscape-painters.