Directory of Art Styles and Movements
This directory of fine art reproductions selected by periods, movements, styles and genres can help you to select the painting which is appropriate for you and also make a short journey into the development and history of art.
Last Added Art Reproductions
Oil Paintings Made to Look Old and Cracked
We are able to make your art reproduction look antique, old and cracked like the original in the museum.
Learn More about the Cracking Effect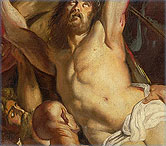 The Most Popular Paintings

Frank Cadogan Cowper Biography

1877-1958

English Pre-Raphaelite Painter


Frank Cadogan Cowper (16 October 1877- 17 November 1958) was an English artist, described as "The last of the Pre-Raphaelites".

Cowper was born in Wicken, Northamptonshire, son of an author and early pioneer of coastal cruising in yachts, Frank Cowper, and grandson of the Rector of Wicken. He had a strict religious upbringing in the tradition of the Plymouth Brethren. He first studied art at St John's Wood Art School in 1896 and then went on to study at the Royal Academy Schools from 1897-1902. He first exhibited at the Royal Academy in 1899, and achieved critical success two years later with his An Aristocrat answering the Summons to Execution, Paris 1791 (1901). In 1902, he spent six months studying under Edwin Austin Abbey before travelling to Italy.

He worked in both watercolours and oils, and also worked as book illustrator - providing the illustrations for Sir Sidney Lee's The Imperial Shakespeare. He contributed to a mural in the Houses of Parliament in 1910 along with Byam Shaw, Ernest Board and Henry Arthur Payne.

As art fashion changed Cowper increasingly exhibited his portrait paintings but still continued to produce historical and literary works.

He retired from London to Gloucestershire. His The Ugly Duckling was voted the favourite painting by visitors to the Cheltenham Art Gallery & Museum in 2005.