Directory of Art Styles and Movements
This directory of fine art reproductions selected by periods, movements, styles and genres can help you to select the painting which is appropriate for you and also make a short journey into the development and history of art.
Last Added Art Reproductions
Oil Paintings Made to Look Old and Cracked
We are able to make your art reproduction look antique, old and cracked like the original in the museum.
Learn More about the Cracking Effect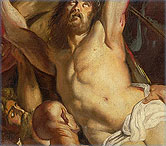 The Most Popular Paintings

Burgoyne Diller (inspired by) Biography

1906-1965

American Abstract Painter


Burgoyne A. Diller (1906 - 1965) was an American abstract painter. Many of his best-known works are characterized by orthogonal geometric forms that reflect his strong interest in the De Stijl movement and the work of Piet Mondrian in particular. Overall, his Geometric abstraction and non-objective style also owe much to his study with Hans Hofmann at the Art Students League of New York. He was a founding member of the American Abstract Artists. Diller's abstract work has sometimes been termed "constructivist". He also did figurative and representational works early in his career working as a muralist for the New York City Federal Arts Project. His work is in many major museums, including the Whitney Museum of American Art and the Metropolitan Museum of Art in New York, as well as the National Gallery of Art and the Hirshhorn Museum and Sculpture Garden in Washington, DC.