Directory of Art Styles and Movements
This directory of fine art reproductions selected by periods, movements, styles and genres can help you to select the painting which is appropriate for you and also make a short journey into the development and history of art.
Last Added Art Reproductions
Oil Paintings Made to Look Old and Cracked
We are able to make your art reproduction look antique, old and cracked like the original in the museum.
Learn More about the Cracking Effect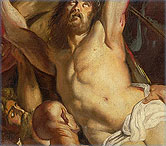 The Most Popular Paintings
Eugen de Blaas Biography

1843-1931

Italian Academic Classicism Painter


Eugene de Blaas, also known as Eugene von Blaas or Eugenio de Blaas (July 24, 1843 - 1932) was an Italian painter in the school known as Academic Classicism. He was born at Albano, near Rome, to Austrian parents. His father Karl, also a painter, was his teacher. The family moved to Venice when Karl became Professor at the Academy in Venice. He often painted scenes in Venice. He became professor in the Academy of Venice.