Directory of Art Styles and Movements
This directory of fine art reproductions selected by periods, movements, styles and genres can help you to select the painting which is appropriate for you and also make a short journey into the development and history of art.
Last Added Art Reproductions
Oil Paintings Made to Look Old and Cracked
We are able to make your art reproduction look antique, old and cracked like the original in the museum.
Learn More about the Cracking Effect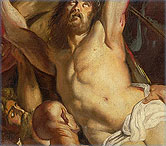 The Most Popular Paintings

Francois Flameng Biography

1856-1923

French Academic Classicism Painter


Francois Flameng
(1856-1923) was a very successful French painter during the last quarter of the 19th century and the first quarter of the 20th. He was the son of a celebrated engraver and received a first-rate education in his craft. Flameng initially received renown for his history painting and portraiture, and became a professor at the Academy of Fine Arts. He decorated such important civic buildings as the Sorbonne and the Opera Comique, and also produced advertising work. Flameng was granted France's highest civilian honor, the Legion d'Honneur, and designed France's first bank notes.
Flameng later received renown for his painting of World War I. He was named honorary president of the Society of Military Painters and an accredited documenter for the War Ministry. His work was displayed in the Hotel des Invalides in Paris, as well as being reproduced in newsmagazines. It should be noted that although his paintings may seem almost romantic to eyes which have seen photographs of genocide and nuclear war, at the time they were painted, Flameng's war paintings were derided by many critics for being too realistic and not including heroic drama. Most of his war paintings were donated to the Musee de l'Armee in 1920.
Francois Flameng was a friend of
John Singer Sargent
, who painted his portrait, and he also traveled with
Jean Leon Gerome
and Victor Clairin in Italy. Whether any of these friendships were intimate is unknown, but Flameng traveled in circles of men who remained unmarried despite strong social pressures to marry.