Directory of Art Styles and Movements
This directory of fine art reproductions selected by periods, movements, styles and genres can help you to select the painting which is appropriate for you and also make a short journey into the development and history of art.
Last Added Art Reproductions
Oil Paintings Made to Look Old and Cracked
We are able to make your art reproduction look antique, old and cracked like the original in the museum.
Learn More about the Cracking Effect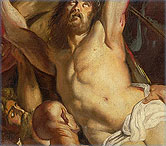 The Most Popular Paintings
Franz Xavier Winterhalter Biography

1805-1873

German (active in England) Academic Classicism Painter


Franz Winterhalter (April 20, 1805 - July 8, 1873) was a famous Victorian artist. Born in Menzenschwand in the Black Forest in 1805. He was Fluent in German, he was a very well known painter at the time and was reputed to be Queen Victoria's favourite artist. He painted several portraits of her and her piers of high class, such as portraits of Prince Albert, Napoleon, King Louis-Philippe of France, Empress Maria Alexandrovna of Russia and many more. He lived in Paris for most of his career but painted portraits of most of Europe's royalty. His style was considered to be romantic, glossy, and superficial; because of that, his portraits have until recently been valued more as historical records than as works of art. However, a major exhibition of his work at the National Portrait Gallery in London and the Petit Palais in Paris in 1987 brought him into the limelight again.
Winterhalter grew up with a large imagination; he had always been talented at art. Unfortunately, he suffered an injury to his right hand when he was twenty one, which affected his work greatly. But by the time he was twenty five his work had improved dramatically; in fact, it is reputed that he preferred his left hand over his right hand. He died in Frankfurt-am-Main in 1873.