Directory of Art Styles and Movements
This directory of fine art reproductions selected by periods, movements, styles and genres can help you to select the painting which is appropriate for you and also make a short journey into the development and history of art.
Last Added Art Reproductions
Oil Paintings Made to Look Old and Cracked
We are able to make your art reproduction look antique, old and cracked like the original in the museum.
Learn More about the Cracking Effect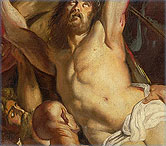 The Most Popular Paintings

Corrado Giaquinto Biography

1703-1765

Italian Rococo Painter


Corrado Giaquinto is properly considered one of the major figures of the eighteenth century Roman School, his early training in Naples between 1719 and 1723 proved essential to the development of his mature style. Having studied there with Nicola Maria Rossi, a pupil of Francesco Solimena, and in the process derived inspiration from the paintings of Solimena himself as well as from the fresco decorations of Luca Giordano for the Certosa di San Martino, he settled in Rome in 1723, where he became a pupil and assistant of Sebastiano Conca, the leading practitioner of the local version of the Rococo. In the next twenty years Giaquinto emerged as one of the city's principal decorative painters, ornamenting a number of churches and private palaces with paintings as fine as any produced in Settecento Rome. While resident in Rome, he worked briefly at the royal court in Turin (1733 and 1735-9), where he collaborated with French, Venetian, and Neapolitan painters of his generation and polished his elegant rococo forms and luminous palette. In 1753, Giaquinto was invited by Ferdinand VI to serve as first painter at the royal court in Madrid and director of the Academy of San Fernando. During his stay in Spain (1753-62), Giaquinto executed the dazzling ceiling frescoes in the new royal palace and demonstrated his gifts as one of the most brilliant colourists of the Settecento. The final years of his life (1762-6) were spent in Naples where his last important commission was for the decoration of the new sacristy in San Luigi di Palazzo, the royal monastery. These late altarpieces, 'in which he synthesised the illusionistic and picturesque character of the Neapolitan tradition with the classicizing and serious character of the Roman Grand Manner' (N. Spinosa), are among his most moving and inspired creations and significantly influenced a number of Neapolitan painters in the second half of the century.