Directory of Art Styles and Movements
This directory of fine art reproductions selected by periods, movements, styles and genres can help you to select the painting which is appropriate for you and also make a short journey into the development and history of art.
Last Added Art Reproductions
Oil Paintings Made to Look Old and Cracked
We are able to make your art reproduction look antique, old and cracked like the original in the museum.
Learn More about the Cracking Effect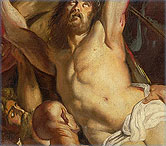 The Most Popular Paintings

Henry Peters Gray Biography

1819-1877

American Victorian Neoclassicism Painter


Henry Peters Gray (June 23, 1819 - November 12, 1877) was an American portrait and genre painter.

Born in New York City he was a pupil of Daniel Huntington in New York, and subsequently studied in Rome and Florence. Elected a member of the National Academy of Design in 1842, he succeeded Huntington as president in 1870, holding the position until 1871.

The later years of his life were devoted to portrait work. He was strongly influenced by the old Italian masters, painting in mellow colour with a classical tendency. One of his notable canvases was an allegorical composition called "The Birth of our Flag" (1875). He died in New York City.