Directory of Art Styles and Movements
This directory of fine art reproductions selected by periods, movements, styles and genres can help you to select the painting which is appropriate for you and also make a short journey into the development and history of art.
Last Added Art Reproductions
Oil Paintings Made to Look Old and Cracked
We are able to make your art reproduction look antique, old and cracked like the original in the museum.
Learn More about the Cracking Effect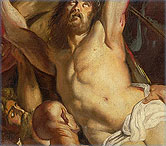 The Most Popular Paintings

John George Brown Biography

1831-1913

English (Active in America) Realist Painter


John George Brown (November 11, 1831 - February 8, 1913), American painter, was born in Durham, England, on 11 November 1831. He studied at Newcastle-on-Tyne, in the Edinburgh Academy, and after moving to New York City in 1853, he studied with Thomas Seir Cummings at the schools of the National Academy of Design, of which he became a member in 1863.[1] He was its vice-president, 1899-1904, and originated the idea of the removal of the Academy to a new site in 110th Street.
In 1866 he became one of the charter members of the Water-Color Society, of which he was president from 1887 to 1904. He generally confined himself to representations of street child life, bootblacks, newsboys, etc.; his Passing Show (Paris, Salon, 1877) and Street Boys at Play (Paris Exhibition, 1900) are good examples of his popular talent. Brown's art is best characterized as British genre paintings adapted to American subjects. Essentially literary, it is executed with precise detail, but is poor in color, and more popular with the general public than with connoisseurs.