Directory of Art Styles and Movements
This directory of fine art reproductions selected by periods, movements, styles and genres can help you to select the painting which is appropriate for you and also make a short journey into the development and history of art.
Last Added Art Reproductions
Oil Paintings Made to Look Old and Cracked
We are able to make your art reproduction look antique, old and cracked like the original in the museum.
Learn More about the Cracking Effect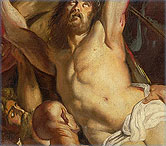 The Most Popular Paintings
John Frederick Lewis Biography

1805-1876

English Romanticism Painter


John Frederick Lewis (July 14, 1805 - August 15, 1876) was an Orientalist English painter. He specialized in Oriental and Mediterranean scenes and often worked in exquisitely detailed watercolour. He was the son of Frederick Christian Lewis (1779-1856), engraver and landscape-painter.

Lewis lived in Spain between 1832 and 1834. He lived in Cairo between 1841 and 1850, where he made numerous sketches that he turned into paintings even after his return to England in 1851. He lived in Walton-on-Thames until his death.

Lewis became an Associate of the Royal Academy in 1859 and a member (an RA) in 1865.

After being largely forgotten for decades, he became extremely fashionable, and expensive, from the 1970s and good works now fetch prices into the millions of dollars or pounds at auction.