Directory of Art Styles and Movements
This directory of fine art reproductions selected by periods, movements, styles and genres can help you to select the painting which is appropriate for you and also make a short journey into the development and history of art.
Last Added Art Reproductions
Oil Paintings Made to Look Old and Cracked
We are able to make your art reproduction look antique, old and cracked like the original in the museum.
Learn More about the Cracking Effect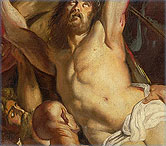 The Most Popular Paintings
Joseph Henry Sharp (inspired by) Biography

1859-1953

American Realist Painter


Joseph Henry Sharp (September 27, 1859, Bridgeport, Ohio - August 1953) was a painter credited with influencing the creation of the Taos, New Mexico Society of Artists. He painted American Indian portraits and cultural life, and Western landscapes. As a youth he permanently damaged his hearing in a near-drowning accident, and gradually become totally deaf.

His formal art training included Mickmicken University (Cincinnati) and Antwerp (Belgium) Academy. He traveled and worked in Europe also. Harpers Magazine commissioned his illustrations of Taos Indian life. Some portraits were purchased by the Smithsonian Institution. President Theodore Roosevelt took an interest in him and had a cabin built for him at Little Big Horn to paint Indian life there. After further travel, he settled in Taos, where he located his major studio. He died in August 1953. He was a historian of the West as well as a painter, and helped to preserve the record of a vanishing way of life.