Directory of Art Styles and Movements
This directory of fine art reproductions selected by periods, movements, styles and genres can help you to select the painting which is appropriate for you and also make a short journey into the development and history of art.
Last Added Art Reproductions
Oil Paintings Made to Look Old and Cracked
We are able to make your art reproduction look antique, old and cracked like the original in the museum.
Learn More about the Cracking Effect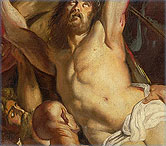 The Most Popular Paintings
Jean-Baptiste Jouvenet
(1647 - April 5, 1717) was a French Baroque painter.
Born at Rouen, Jouvenet came of a family of artists, one of whom had taught
Nicolas Poussin
.
He early showed remarkable aptitude for his profession, and, on arriving in Paris, attracted the attention of Le Brun, by whom he was employed at Versailles, and under whose auspices, in 1675, he became a member of the Academie royale, of which he was elected professor in 1681, and one of the four perpetual rectors in 1707. He also worked under Charles de la Fosse in the Invalides and Trianon.
The great mass of works that he executed, chiefly in Paris, many of which, including his celebrated Miraculous Draught of Fishes (engraved by Audran; also Landon, Annales, i. 42), are now in the Louvre, show his fertility in invention and execution, and also that he possessed in a high degree that general dignity of arrangement and style which distinguished the school of Le Brun.
Jouvenet died on the 5th of April 1717, having been forced by paralysis during the last four years of his life to work with his left hand.