Directory of Art Styles and Movements
This directory of fine art reproductions selected by periods, movements, styles and genres can help you to select the painting which is appropriate for you and also make a short journey into the development and history of art.
Last Added Art Reproductions
Oil Paintings Made to Look Old and Cracked
We are able to make your art reproduction look antique, old and cracked like the original in the museum.
Learn More about the Cracking Effect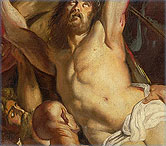 The Most Popular Paintings

Fernand Edmond Jean Marie Khnopff Biography

1858-1921

Belgian Symbolist Painter


Fernand Edmond Jean Marie Khnopff
(September 12, 1858 - November 12, 1921) was a Belgian symbolist painter.
He was raised in Bruges and went to law school in Brussels. He quickly dropped out and enrolled in l'academie des beaux art; Xavier Mellery was his main tutor. During a trip to Paris in 1877 he was greatly influenced by Delacroix and the
Pre-Raphaelites
. In 1883 he was one of the founders of the "Groupe des XX". Although not a very open man and a rather secluded personality, he already achieved cult status during his life. Acknowledged and accepted, he received the Order of Leopold. His sister was one of his favorite subjects. His most famous painting is probably The Caress.