Directory of Art Styles and Movements
This directory of fine art reproductions selected by periods, movements, styles and genres can help you to select the painting which is appropriate for you and also make a short journey into the development and history of art.
Last Added Art Reproductions
Oil Paintings Made to Look Old and Cracked
We are able to make your art reproduction look antique, old and cracked like the original in the museum.
Learn More about the Cracking Effect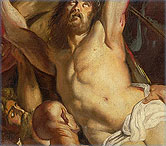 The Most Popular Paintings
Louis-Jean-Francois Lagrenee Biography

1725-1805

French Neoclassical Painter


Louis-Jean-François Lagrenée (December 30, 1725 - June 19, 1805), French painter, born at Paris, was a pupil of Carlo Vanloo.
In 1755 he became a member of the Royal Academy, presenting as his diploma picture the "Rape of Deianira" (Louvre). He visited St Petersburg at the call of the empress Elizabeth, and on his return was named in 1781 director of the French Academy at Rome; he there painted the "Indian Widow," one of his best-known works.
In 1804 Napoleon conferred on him the cross of the legion of honour, and on the 19th of June 1805 he died in the Louvre, of which he was honorary keeper.