Directory of Art Styles and Movements
This directory of fine art reproductions selected by periods, movements, styles and genres can help you to select the painting which is appropriate for you and also make a short journey into the development and history of art.
Last Added Art Reproductions
Oil Paintings Made to Look Old and Cracked
We are able to make your art reproduction look antique, old and cracked like the original in the museum.
Learn More about the Cracking Effect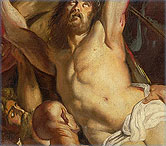 The Most Popular Paintings

Jules Joseph Lefebvre Biography

1836-1911

French Academic Classicism Painter


Jules Joseph Lefebvre (Tournan, March 14, 1836 - Paris, February 24, 1911) was a French Academic Painter.

Entered the Ecole Nationale Superieure des Beaux-Arts en 1852, and was a pupil of Leon Cogniet. Lefebvre won the prestigious Prix de Rome in 1861. Between 1855 and 1898, he exhibited 72 portraits in the Paris Salon. In 1891, he became a member of the French Academie des Beaux-Arts.

He was an instructor at the Academie Julian in Paris. He is chiefly important as an excellent and sympathetic teacher who numbered many Americans among his 1500 or more pupils. One of his famous students was the Scottish born landscape painter William Hart. Georges Rochegrosse and John Noble Barlow were also his pupils. He was long a professor at the Ecole des Beaux-Arts.

His paintings are usually single figures of beautiful women.

Among his best portraits were those of M. L. Reynaud and the Prince Imperial (1874). Among his many decorations were a first-class medal at the Paris Exhibition of 1878 and the medal of honor in 1886. He was a Commander of the Legion of Honor and a member of the Institute.