Directory of Art Styles and Movements
This directory of fine art reproductions selected by periods, movements, styles and genres can help you to select the painting which is appropriate for you and also make a short journey into the development and history of art.
Last Added Art Reproductions
Oil Paintings Made to Look Old and Cracked
We are able to make your art reproduction look antique, old and cracked like the original in the museum.
Learn More about the Cracking Effect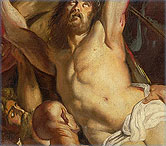 The Most Popular Paintings
Stanislas Lepine Biography

1835-1892

French Impressionist Painter


Stanislas Victor Edouard Lepine
(October 23, 1835 - 1892) was a French painter who specialized in landscapes, especially views of the Seine.
Lepine was born in Caen. An important influence in his artistic formation was
Corot
, who he met in Normandie in 1859, becoming his student the following year.
Lepine's favorite subject was the Seine, which he was to paint in all its aspects for the rest of his life. He participated in the first Impressionist exhibition, held at Nadar's in 1874, although he is generally not considered an Impressionist. His paintings are placid in mood and are usually small in scale. Lepine was awarded the First Prize medal at the Exposition of 1889. He died suddenly in Paris in 1892.