Directory of Art Styles and Movements
This directory of fine art reproductions selected by periods, movements, styles and genres can help you to select the painting which is appropriate for you and also make a short journey into the development and history of art.
Last Added Art Reproductions
Oil Paintings Made to Look Old and Cracked
We are able to make your art reproduction look antique, old and cracked like the original in the museum.
Learn More about the Cracking Effect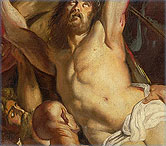 The Most Popular Paintings
Marco Ricci (Belluno, 5 June 1676 - Venice, 1730) was an Italian painter of the Baroque period. He was the nephew of Sebastiano Ricci. After receiving his first instruction in art from his uncle, he visited Rome, where he was for some years occupied in drawing vedute.

In 1710 he came to England with his uncle, and his vedute of ruins and architecture (capricci) found many patrons. Marco Ricci etched several plates from his own designs, consisting of views and landscapes, with ruins and figures, including a set of twenty-three prints, entitled Varia Marci Ricci Pictoris priestantissimi experimenta ab ipsomet auctore inventa, delineata atque incisa, et a me Carolo Orsolini Veneto incisore in unum collecta, c. Anno 1730, Venetiis.