Directory of Art Styles and Movements
This directory of fine art reproductions selected by periods, movements, styles and genres can help you to select the painting which is appropriate for you and also make a short journey into the development and history of art.
Last Added Art Reproductions
Oil Paintings Made to Look Old and Cracked
We are able to make your art reproduction look antique, old and cracked like the original in the museum.
Learn More about the Cracking Effect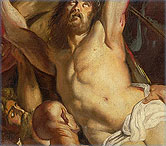 The Most Popular Paintings
Abraham Mignon
(June 21, 1640 - March 27, 1679), Dutch painter, was born at Frankfurt.
His father, a merchant, placed him under the still-life painter Jacob Marrel, by whom he was taken to the Netherlands about 1660. He then worked under
Jan Davidszoon de Heem
at Utrecht, where in 1675 he married the daughter of the painter Cornelis Willaerts. Sibylle Merian (1647-1717), daughter of the engraver Matthew Merian, became his pupil and achieved distinction as a flower painter. He died at Utrecht.
Mignon devoted himself almost exclusively to flowers, fruit, birds and other still-life, though at times he also attempted portraiture. His flower pieces are marked by careful finish and delicate handling. His favourite scheme was to introduce red or white roses in the centre of the canvas and to set the whole group of flowers against a dark background.
Nowhere can his work be seen to better advantage than at the Dresden Gallery, which contains fifteen of his paintings, twelve of which are signed. Six of his pictures are at the Louvre, four at the Hermitage, and other examples are to be found at the museums of Amsterdam, The Hague, Rotterdam, Brussels, Munich, Karlsruhe, Brunswick, Kassel, Schwerin, Copenhagen, Warsaw and Turin.