Directory of Art Styles and Movements
This directory of fine art reproductions selected by periods, movements, styles and genres can help you to select the painting which is appropriate for you and also make a short journey into the development and history of art.
Last Added Art Reproductions
Oil Paintings Made to Look Old and Cracked
We are able to make your art reproduction look antique, old and cracked like the original in the museum.
Learn More about the Cracking Effect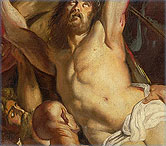 The Most Popular Paintings
Osias Beert the Elder (b. Antwerp, ?c. 1580; d Antwerp, late 1624). Flemish painter. In 1596 he went to study with Andries van Baseroo and in 1602 became a master in the Antwerp Guild of St Luke; these two dates suggest his probable date of birth. Beert married Marguerite Ykens on 8 January 1606. Contemporary documents describe him as a cork merchant. The esteem enjoyed by Beert is indicated by the large number of pupils he had, including, in 1610, Frans van der Borch; in 1615, Frans Ykens; in 1616, Paulus Pontius; and, in 1618, Jan Willemssen. Beert's son, Osias Beert the younger (1622–78), was also a painter and became a master in 1645.