Directory of Art Styles and Movements
This directory of fine art reproductions selected by periods, movements, styles and genres can help you to select the painting which is appropriate for you and also make a short journey into the development and history of art.
Last Added Art Reproductions
Oil Paintings Made to Look Old and Cracked
We are able to make your art reproduction look antique, old and cracked like the original in the museum.
Learn More about the Cracking Effect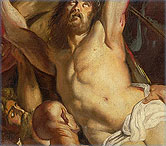 The Most Popular Paintings
Pierre-Auguste Cot Biography

1837-1883

French Academic Classicism Painter


Pierre Auguste Cot (1837-1883) was a French painter of the Academic Classicism school who created several works of lasting popularity, including Les Printemps, featuring two young lovers sitting upon a swing, and The Storm. Both these paintings were until recently on display at the Metropolitan Museum of Art in New York City; The Storm belongs to the museum while Les Primtemps is owned privately. Les Primtemps is no longer in the museum's collection, but instead has moved to the Philbrook Museum of Art in Tulsa.

Cot also was renowned for his portraits, which made up the majority of his work. The more enduring figurative work, such as The Storm, is comparatively rare.

Les Printemps is now part of the collection of the Appleton Museum of Art in Ocala, Florida. It may be viewed there anytime during museum hours.