Directory of Art Styles and Movements
This directory of fine art reproductions selected by periods, movements, styles and genres can help you to select the painting which is appropriate for you and also make a short journey into the development and history of art.
Last Added Art Reproductions
Oil Paintings Made to Look Old and Cracked
We are able to make your art reproduction look antique, old and cracked like the original in the museum.
Learn More about the Cracking Effect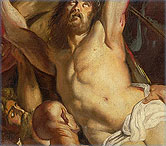 The Most Popular Paintings
Pieter Claesz (ca. 1597-1660) was a Dutch still life painter, born in Burgsteinfurt, Westphalia (now Germany) and active in Haarlem, where he settled in 1617. He and Willem Claeszoon Heda, who also worked in Haarlem, were the most important exponents of the "ontbijt" or breakfast piece. They painted with subdued, virtually monochromatic palettes, the subtle handling of light and texture being the prime means of expression. Claesz generally chose objects of a more homely kind than Heda, although his later work became more colourful and decorative. The two men founded a distinguished tradition of still life painting in Haarlem; but Claesz.'s son, Nicolaes Berchem, became famous as a landscape painter.