Directory of Art Styles and Movements
This directory of fine art reproductions selected by periods, movements, styles and genres can help you to select the painting which is appropriate for you and also make a short journey into the development and history of art.
Last Added Art Reproductions
Oil Paintings Made to Look Old and Cracked
We are able to make your art reproduction look antique, old and cracked like the original in the museum.
Learn More about the Cracking Effect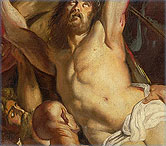 The Most Popular Paintings
Regis-Francois Gignoux Biography

1816-1882

French (Active in America) Hudson River School Painter


Regis Francois Gignoux
(1816-1882) was a French painter who was active in the United States from 1840 to 1870. He was born in Lyon, France and studied at the Ecole des Beaux-Arts under with the French painter
Paul Delaroche
. Gignoux arrived in the United States from France in 1840 and opened a studio in Brooklyn, New York. He was a member of the National Academy of Design, and was the first president of the Brooklyn Art Academy.
George Inness
and John LaFarge were both his students. Gignoux was the only member of the Hudson River School to specialize in snow scenes. He returned to France in 1870 and died in Paris in 1882.
The Brooklyn Museum, the Corcoran Gallery of Art (Washington, DC), the Georgia Museum of Art (University Of Georgia, Athens), the High Museum of Art (Atlanta, Georgia), the Honolulu Academy of Arts, the Hood Museum of Art (Dartmouth College, Hanover, New Hampshire), the Museum of Art at Brigham Young University (Provo, Utah), the Museum of Fine Arts, Boston, the Nelson-Atkins Museum of Art (Kansas City, Missouri), the New York Historical Society (New York City), the Parrish Art Museum (Southampton, New York), Smith College Museum of Art (Northampton, Massachusetts), the United States Capital Art Collection (Washington, D. C.), the Walters Art Museum (Baltimore, Maryland) and the Watson Gallery (Wheaton College, Norton, Massachusetts) are among the public collections holding work by Regis Francois Gignoux.