Directory of Art Styles and Movements
This directory of fine art reproductions selected by periods, movements, styles and genres can help you to select the painting which is appropriate for you and also make a short journey into the development and history of art.
Last Added Art Reproductions
Oil Paintings Made to Look Old and Cracked
We are able to make your art reproduction look antique, old and cracked like the original in the museum.
Learn More about the Cracking Effect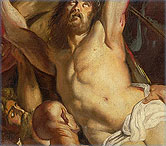 The Most Popular Paintings
Richard Wilson
(1 August 1714 - 15 May 1782) was a Welsh landscape painter and one of the founder members of the Royal Academy in 1768.
The son of a clergyman, Wilson was born in Penegoes, Montgomeryshire. The family was an old and respected one, and Wilson was first cousin to Charles Pratt, 1st Earl Camden. In 1729 he went to London where he began as a portrait painter. From 1750 to 1757 he was in Italy and adopted landscape on the advice of
Francesco Zuccarelli
. Painting in Italy and afterwards in England, he was the first major British painter to primarily concentrate on landscape. He composed well, but saw and rendered only the general effects of nature thereby creating a personal, ideal style influenced by Claude Lorrain and the Dutch landscape tradition. According to John Ruskin, he "paints in a manly way, and occasionally reaches exquisite tones of colour." His landscapes were acknowledged as an influence by
Constable
and
Turner
. Wilson died in Colomendy, Denbighshire and is buried in the grounds of the parish church of St Mary the Virgin, Mold, Flintshire.