Directory of Art Styles and Movements
This directory of fine art reproductions selected by periods, movements, styles and genres can help you to select the painting which is appropriate for you and also make a short journey into the development and history of art.
Last Added Art Reproductions
Oil Paintings Made to Look Old and Cracked
We are able to make your art reproduction look antique, old and cracked like the original in the museum.
Learn More about the Cracking Effect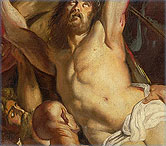 The Most Popular Paintings
Salomon Koninck Biography

1609-1656

Dutch Baroque Painter


Salomon Koninck
(1609, Amsterdam - buried August 8, 1656, Amsterdam) was a Dutch painter of genre scenes and portraits and engraver.
Koninck was the son of a goldsmith, originally from Antwerp, and was a nephew of Philips de Koninck. Salomon became a pupil of Pieter Lastman, David Colijns, Francois Venants and Claes Corneliszoon Moeyaert. From 1630 he was a member of the Sint Lucasgilde. He moved in the circles of
Rembrandt
and the academy of Hendrick van Uylenburgh, making many copies of Rembrandt's compositions. His paintings have a warm colour palette and include "the philosopher".
He married a daughter of Adriaen van Nieulandt and later a sister of Antonie van Stralen.