Directory of Art Styles and Movements
This directory of fine art reproductions selected by periods, movements, styles and genres can help you to select the painting which is appropriate for you and also make a short journey into the development and history of art.
Last Added Art Reproductions
Oil Paintings Made to Look Old and Cracked
We are able to make your art reproduction look antique, old and cracked like the original in the museum.
Learn More about the Cracking Effect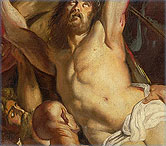 The Most Popular Paintings

Elisabetta Sirani Biography

1638-1665

Italian Baroque Painter


Elisabetta Sirani
(born 1638, died at the age of 27 in 1665) was an Italian painter whose father was the painter Giovanni Andrea Sirani of the School of Bologna, and the principal assistant of
Guido Reni
.
She painted an Assumption at the Parish Church of Borgo Panigale. Also a Saint Eustache, and Judith with the Head of Holofernes (Burghley House, Stamford, England); Baptism of Christ (1658); and Madonna with child and Infant Saint John (Museo Civico, Pesaro); Saint Jerome (Pinacoteca Nazionale, Bologna), and Portrait of Anna Maria Ranuzzi.