Directory of Art Styles and Movements
This directory of fine art reproductions selected by periods, movements, styles and genres can help you to select the painting which is appropriate for you and also make a short journey into the development and history of art.
Last Added Art Reproductions
Oil Paintings Made to Look Old and Cracked
We are able to make your art reproduction look antique, old and cracked like the original in the museum.
Learn More about the Cracking Effect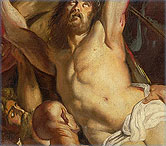 The Most Popular Paintings
Stuart Davis
(December 7, 1894 - June 24, 1964), was an early American modernist painter. He was well known for his Jazz influenced, proto pop art paintings of the 1940s and 1950s, bold, brash, and colorful.
He was born in Philadelphia to Edward Wyatt Davis and Helen Stuart Davis. His parents both worked in the arts. His father was the art editor of the Philadelphia Press while his mother was a sculptor. Davis studied painting, and art under Robert Henri, the leader of the early modern art group the Eight; he was one of the youngest painters to exhibit in the controversial Armory Show of 1913.
Exposed at this exhibition to the work of such artists as
Vincent van Gogh
and
Pablo Picasso
, Davis became a committed "modern" artist and a major exponent of cubism and modernism in America.
He was represented by Edith Gregor Halpert at the Downtown Gallery in New York City. He is probably most famous for his Hard-edge paintings, his abstract still lifes and landscapes; his use of contemporary subject matter such as cigarette packages, spark plug advertisements and the contemporary American landscape make him a proto-Pop artist. An alcoholic, Davis died of a stroke in New York on June 24, 1964.