Directory of Art Styles and Movements
This directory of fine art reproductions selected by periods, movements, styles and genres can help you to select the painting which is appropriate for you and also make a short journey into the development and history of art.
Last Added Art Reproductions
Oil Paintings Made to Look Old and Cracked
We are able to make your art reproduction look antique, old and cracked like the original in the museum.
Learn More about the Cracking Effect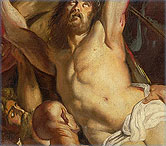 The Most Popular Paintings
Paolo Cagliari Veronese Biography

c.1528-1588

Italian Mannerist Painter


Paolo Veronese
(c. 1528 - April 19, 1588) was an important Venetian Renaissance painter. His birth name was Paolo Cagliari or Paolo Caliari; he became known as "Veronese" from his birthplace in Verona.
Veronese studied the local art in Verona in his youth, then moved briefly to Mantua in 1548 (where he created frescoes in that city's Duomo) before settling in Venice.
Most of his works are vivid narrative cycles, executed in a dramatic and colorful Mannerist Venetian style, full of majestic architectural sets and glittering Venetian pageantry.
With
Titian
and
Tintoretto
he makes up the triumvirate of great painters of the late Renaissance in Venice. He is known as a supreme colourist and for his illusionistic decorations in both fresco and oil. His large paintings of biblical feasts executed for the refectories of monasteries in Venice and Verona are especially celebrated. He also produced many altarpieces, history and mythological paintings and portraits. His compositional sketches in pen, ink and wash, figure studies in chalk, and chiaroscuro modelli and ricordi form a significant body of drawings. He headed a family workshop that remained active after his death.