Directory of Art Styles and Movements
This directory of fine art reproductions selected by periods, movements, styles and genres can help you to select the painting which is appropriate for you and also make a short journey into the development and history of art.
Last Added Art Reproductions
Oil Paintings Made to Look Old and Cracked
We are able to make your art reproduction look antique, old and cracked like the original in the museum.
Learn More about the Cracking Effect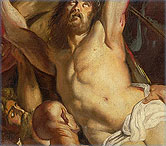 The Most Popular Paintings

John William Waterhouse Biography

1849-1917

English Victorian Romanticism Painter


John William Waterhouse
(April 6, 1849 - February 10, 1917) was a British neo-classical and Pre-Raphaelite painter most famous for his paintings of female characters from mythology and literature.
Early life

He was born in Rome to the painters William and Isabela Waterhouse, but when he was five the family moved to South Kensington, near the newly founded Victoria and Albert Museum. He studied painting under his father before entering the Royal Academy schools in 1870. His early works were of classical themes in the spirit of
Alma-Tadema
and
Frederic Leighton
, and were exhibited at the Royal Academy, the Society of British Artists and the Dudley Gallery.
Later career

In 1874, at the age of twenty-five, Waterhouse submitted the classical allegory Sleep and His Half-Brother Death to the Royal Academy's Summer Exhibition. The painting was very well received and he exhibited at the RA almost every year afterwards until his death in 1917. In 1883 he married Esther Kenworthy, the daughter of an art schoolmaster from Ealing who had exhibited her own flower-paintings at the Royal Academy and elsewhere. They had two children, but both died in childhood.
In 1895 Waterhouse was elected to the status of full Academician. He taught at the St. John's Wood Art School, joined the St John's Wood Arts Club, and served on the Royal Academy Council.
Waterhouse's most famous painting is
The Lady of Shalott
, a study of a Elaine of Astolat, who dies of grief when Lancelot will not love her. He actually painted three different versions of this character, in 1888, 1896, and 1916.
His grave can be found at Kensal Green Cemetery in London.