Directory of Art Styles and Movements
This directory of fine art reproductions selected by periods, movements, styles and genres can help you to select the painting which is appropriate for you and also make a short journey into the development and history of art.
Last Added Art Reproductions
Oil Paintings Made to Look Old and Cracked
We are able to make your art reproduction look antique, old and cracked like the original in the museum.
Learn More about the Cracking Effect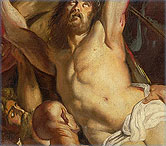 The Most Popular Paintings

Richard Westall Biography

1765-1836

English Victorian Romanticism Painter


Richard Westall (2 January 1765 - 4 December 1836) was an English painter.

He was the more successful of two half-brothers (both sons of a Benjamin Westall, from Norwich), who each became painters. His younger half-brother was William Westall (1781-1850), a much-travelled landscape painter.

Born in Hertford, Richard Westall was apprenticed to a heraldic silver engraver in London in 1779 before studying at the Royal Academy School of Art from 10 December 1785. He exhibited at the Academy regularly between 1784 and 1836, became an Associate in November 1792 and was elected an Academician on 10 February 1794.

His works - many in water-color - included portraits (including Queen Victoria, Lord Byron and Richard Ayton) and many historical subjects of a neo-classical nature (eg: Shakespearean scenes), and he was a successful illustrator of books (including an edition of the Bible and of John Milton??â"¢s poems), working for (among others) noted publisher John Boydell. He also served as drawing master to Princess, later Queen Victoria between 1827 and his death in 1836.