Directory of Art Styles and Movements
This directory of fine art reproductions selected by periods, movements, styles and genres can help you to select the painting which is appropriate for you and also make a short journey into the development and history of art.
Last Added Art Reproductions
Oil Paintings Made to Look Old and Cracked
We are able to make your art reproduction look antique, old and cracked like the original in the museum.
Learn More about the Cracking Effect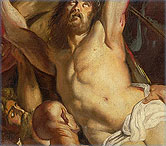 The Most Popular Paintings
Willem van Aelst Biography

1627-c.1683

Dutch Baroque Painter


Willem van Aelst
(May 16, 1627, Delft - in or after 1683, Amsterdam) was a Dutch artist who specialized in still-life painting with flowers or game.
Van Aelst was born to a family of prominent city magistrates. He learned to paint from his uncle, the still-life painter Evert van Aelst. On 9 November 1643 he enrolled as a master of the Guild of Saint Luke at Delft.
Between 1645 and 1649 he lived in France. In 1649 Van Aelst travelled to Florence, where he served as court painter to Ferdinand II de Medici, grand duke of Tuscany. At this time, the grand duke also employed two fellow Dutchmen Matthias Withoos and Otto Marseus van Schrieck, the latter also a still-life painter who probably influenced Van Aelst's style.
In 1656 he returned to the Netherlands to settle permanently in Amsterdam. He became one of the most prominent still-life painters of his generation, which allowed him to live on the Prinsengracht. He must have died in 1683 or shortly thereafter, as his latest dated work is from that year. Van Aelst taught
Rachel Ruysch
and several others.