Verzeichnis der Kunststils
Dieses Verzeichnis der Gemälde-Reproduktionen, selektiert nach Perioden, Kunstrichtungen, Stilrichtungen und Genres kann Ihnen helfen, das für Sie richtige Bild auszuwählen, und bietet Ihnen einen kleinen Ausflug in die Geschichte der Kunst an.
Neueste hinzugefügte Gemälden
Gealterte und rissige Kunst-Reproduktionen
Wir können Ihre Gemälde-Reproduktion rissig aussehen lassen, wie das Museumsoriginal.
Erfahre mehr über den Riss-Effekt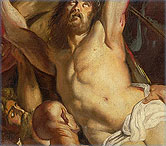 Beliebteste Gemälde-Reproduktionen
Startseite
/
TOP 10 Geschenk-Ideen für Ihn (Mann, Boss, Vater)
TOP 10 Gemälde-Reproduktionen Geeignet für Geschenk für Mälnner, Chefs oder Välter
A painting can be a very refined and highly appreciated present for the upcoming holidays. Here we have specially selected 10 art reproductions that are appropriate for special gifts for men, bosses, husbands or fathers.
As we know men love symbols of power, victory, and strength. Our selection represents the most famous masterpiece-paintings depicting allegorical impressions of superiority and triumph. If you want to stand out, turn your gift into a distinguished one, choosing art reproduction would be the ultimate decision.
Note: You should be aware that it takes time for the painting gift to be prepared. The hand-painted art reproductions must not be rushed as they need time to achieve high quality, precision and also to dry up. We need 2-4 weeks from the moment of ordering to prepare an art reproduction for shipment. The time needed varies for every painting, depending on complexity and size. Once the painting is ready, we need an additional week for framing. Even though canvas prints are produced quicker, but you have to provide also an extra week for framing after delivery.
Napoleon I on the Imperial Throne
1806
Saint Michael and the Dragon
c.1503/04
Pollice Verso (Thumbs Down)
1872
The Wanderer Above a Sea of Mist
1818
Tiger, Löwen und Leoparden Jagd
1616
The Combat Between Saint George and the Dragon
c.1606/07
David mit dem Haupt des Goliath
c.1625
School of Athens
c.1510/11
Napoleon überquert die Alpen am 20. Mai 1800
1803
The Two Crowns
1900
The Golden Knight (Life is a Struggle)
1903
A Lion Attacking a Horse
c.1762