Blair-Leighton | The Accolade | Oil Painting Reproduction Process by TOPofART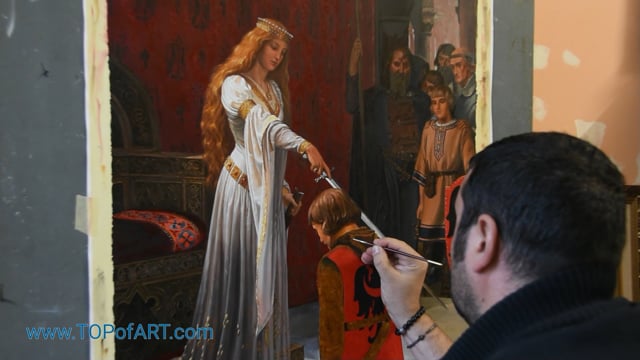 At TOPofART studio, we are delighted to present this video detailing the intricate process behind creating Edmund Blair Leighton's famous painting "The Accolade". At our studio, we take great pride in our craftsmanship and quality in recreating famous paintings - this video serves as proof of our dedication to fine art.

The Accolade: A Masterpiece of Victorian Romanticism:
"The Accolade," Edmund Blair Leighton's masterpiece of Victorian Romanticism, measures 182.3 x 108 cm and currently rests in a private collection - but its charm stretches far beyond this limited space.

Mastery and Skill: A Glimpse into the Process:
TOPofART artists guide viewers step-by-step in recreating "The Accolade." We employ only top quality oil paints and Italian linen canvas, adhering strictly to traditional techniques used by old masters. Our commitment to preserving authenticity of original painting can be seen with each brushstroke of paint used during recreation.

Appreciating Blair-Leighton's Artistry:
Edmund Blair Leighton, known for his vibrant Victorian Romanticism style, masterfully captures the essence of love, honor, and chivalry in "The Accolade." Using intricate detailing as well as light and shadow play-back effects to bring this scene to life and transport viewers back in time to a frozen moment in history.

Explore More of Blair-Leighton's Art:
Blair-Leighton has made an indelible mark on the art world with his impressive works, such as "The Accolade." If his unique style intrigues you and you wish to discover more of his captivating paintings, visit Blair Leighton's gallery on TOPofART's website where you can view or commission reproductions of other pieces he has done - adding his talent into your own space!

Enhance Your Interiors with Blair-Leighton's Giclée Art Prints:
If you're searching for an economical yet equally gorgeous way to bring Blair-Leighton's art into your interiors, TopArtPrint's Giclee Art Prints may be just what you need. Crafted using digital printing technologies with 100+ year color warranties, these prints allow you to appreciate his vision in an accessible format suitable for homes and offices alike.

Edmund Blair Leighton's "The Accolade" holds a special place in art enthusiasts' hearts, and at TOPofART we endeavor to honor its legacy through our precise reproduction process. Through unwavering dedication to quality and unfailing dedication to craftsmanship, our video serves as a testament to all the artistry displayed in every masterpiece we recreate.

Experience the magic of Blair-Leighton's "The Accolade," then discover more of his captivating works on TOPofART's website. Immerse yourself in Victorian Romanticism's world where beauty and passion meld harmoniously to form timeless art that will endure for decades to come.