Modigliani | Woman with a Fan | Oil on Canvas Reproduction Process by TOPofART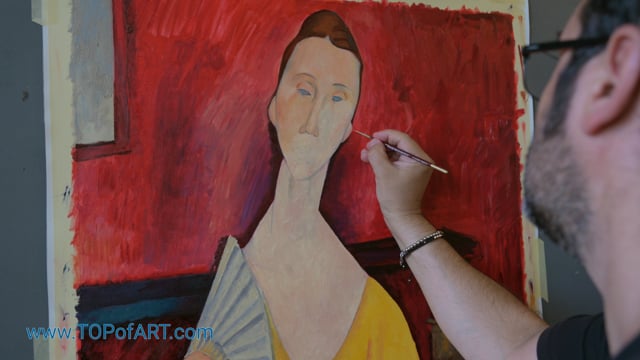 At TOPofART Studio, we take pride in our craftsmanship and commitment to producing high-quality reproductions of popular paintings. Today we are excited to present a new video which takes viewers on a visual journey of Amedeo Modigliani's "Woman with a Fan (Lunia Czechowska)." Starting with a blank canvas all the way up until its completion with one final brushstroke!

Art lovers and connoisseurs have long appreciated Modigliani's expressive style. One of the most influential artists of the 20th century, Modigliani left an indelible mark on art world. His ability to capture emotion and beauty within his subjects truly mesmerizing.

At TOPofART Studio, every reproduction is carefully created using only artist grade oil paints and Italian linen canvas of the highest quality. We strictly follow the techniques used by old masters without resorting to artificial or modern methods; with dedication and attention to detail from our skilled artists, each reproduction brings out the essence and spirit of the original artwork.

Modigliani's masterwork "Woman with a Fan (Lunia Czechowska)," painted in 1919 and now housed by the Modern Art Museum of Paris France measures 100 cm by 65 cm and beautifully illustrates his distinct style by immortalizing its subject's beauty.

TOPofART Studio provides an impressive collection of Modigliani paintings to those who appreciate his art, with various artpieces that you can browse or commission through our website. Experience his profound emotions and captivating beauty that are part of his legacy.

TOPofART Studio also provides more affordable options for art enthusiasts looking to bring the brilliance of Modigliani into their living spaces. Our giclée fine-art prints, printed with cutting-edge digital technologies, boast outstanding quality with over 100 year color guarantee! Add something truly spectacular to your interior decor by including these captivating prints!

Amedeo Modigliani's painting "Woman with a Fan" can be explored by watching our video on our dedicated page for this painting.

Explore the beauty, passion, and artistry of Amedeo Modigliani through TOPofART Studio's museum-quality reproductions, and exquisite giclée art prints. Bring art into your life in an authentic and delightful manner!