Directory of Art Styles and Movements
This directory of fine art reproductions selected by periods, movements, styles and genres can help you to select the painting which is appropriate for you and also make a short journey into the development and history of art.
Last Added Art Reproductions
Oil Paintings Made to Look Old and Cracked
We are able to make your art reproduction look antique, old and cracked like the original in the museum.
Learn More about the Cracking Effect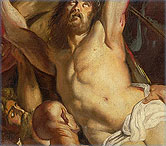 The Most Popular Paintings
Home
/
Interior Decoration Projects
Our Fine Art Reproductions and Canvas Prints Used in Interior Decoration Projects


All interior solutions listed below are realized by art reproductions and canvas prints made in our studio. We have been working with interior design companies for a long time as well as with private clients who want to decorate their home or office with a group of paintings picked out in a style that matches furniture and rooms.

Decoration of Alison Cork Belgravia Town House with Hand-Painted Art Reproductions

The queen of bargains Alison Cork decorate her home with our hand-painted art reproductions.

Photographs: John Griffin & Andrew Crowley





Decoration of Office Premises with Hand-Painted Art Reproductions
A project realized Y2004 for decoration of 7 office premises. For the completion of this project 13 specially matched impressionist and post-impressionist art reproductions were created.