Location: State Russian Museum St. Petersburg Russia
Original Size: 221 x 332 cm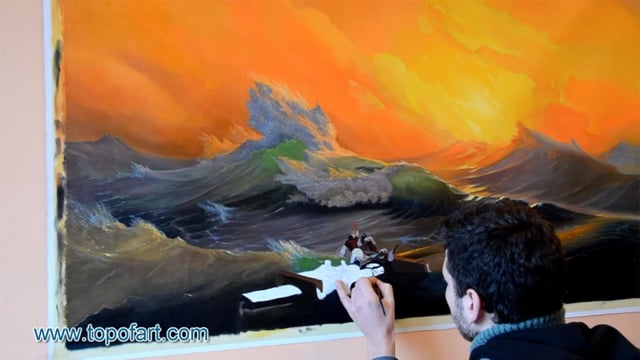 Video of the process of creation of oil painting reproduction in our studio.
You may watch a video showing a painting being made in our TOPofART studio. Hand-painted reproduction: step by step creation of The Ninth Wave by Aivazovsky
4 Reviews
5.00 Overall rating
---

CJ
Verified Reviewer
18th March 2021 5:14pm
I ordered one of my favourite paintings and absolutely love the result. I requested the omission of one detail from the original and this was done exactly as requested. The colours are exquisite. When the painting was ready, it travelled across Europe in less than a day - I was very impressed, especially in the current circumstances. There is another painting I would love to have also ... something to look forward to :)

Simon & Gerard
Verified Reviewer
29th March 2015 4:50pm
Yesterday we received the painting in a very good condition.
I thank you very much. Hoping to have other orders.
With best regards!

Semyon
Verified Reviewer
21st March 2014 6:23pm
Thank you for painting "The Ninth Wave".
My family enjoys it. Maybe late I will order other one.
Thank you again

Mariusz
Verified Reviewer
16th March 2014 10:08pm
I hung it on the wall, here and now. Beautiful, thank you.