Location: Philadelphia Museum of Art Pennsylvania USA
Original Size: 150.2 x 97.8 cm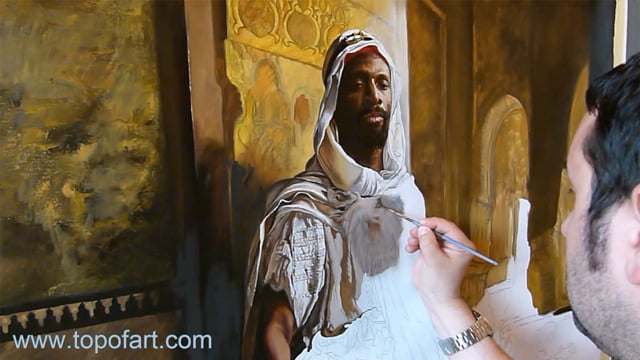 Video of the process of creation of oil painting reproduction in our studio.
You may watch a video showing a painting being made in our TOPofART studio. Hand-painted reproduction: step by step creation of The Moorish Chief by Eduard Charlemont
7 Reviews
5.00 Overall rating
---

Shawn
Verified Reviewer
3rd February 2021 8:37pm
The Moorish Chief
This looks amazing! Well packed, well framed and shipping didn't take long at all. Thank you so much!

Ra
Verified Reviewer
2nd July 2014 9:18am
I was blown away with the quality and detail of my painting, it is magnificent, if you have any other Moorish Art please by all means let me know. Your humble Client

Ledra
Verified Reviewer
2nd April 2014 8:33am

Sasa Mutic
Verified Reviewer
24th March 2014 3:57am
Very well done. The Moorish Chief was 5th painting commissioned from TOPofART, and all are perfect, exactly to the custom specifications I wanted. I would highly recommend Mike and his business.

Roger
Verified Reviewer
22nd March 2014 9:34pm

Peter
Verified Reviewer
22nd March 2014 9:26pm

Art
Verified Reviewer
17th March 2014 8:44pm