A River Landscape with Jacob and Laban and his Daughters, 1654 Claude Lorrain (c.1602-1682)
Location: Public Collection
Original Size: 143.5 x 251.4 cm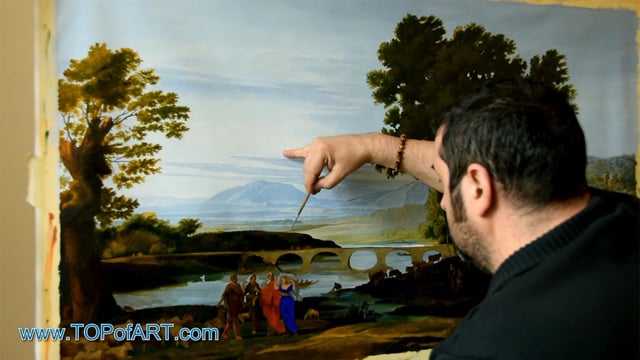 Video of the process of creation of oil painting reproduction in our studio.
You may watch a video showing a painting being made in our TOPofART studio. Hand-painted reproduction: step by step creation of A River Landscape with Jacob and Laban and his Daughters by Claude Lorrain
2 Reviews
5.00 Overall rating
---

Art
Verified Reviewer
30th September 2019 8:31pm

Peter
Verified Reviewer
15th May 2019 11:15pm
Mike is a genius, outstanding painter. I had to wait a bit (I felt like in the movie - Julius II waiting for Michelangelo finishing the Sistine Chapel ) but the patience was worth it. I fear to write more positive review, as Mike will have a lot of commisions and will not have time to work on my next orders (which I already made). Mihail has with Michelangelo not only part of the name common, he has common the perfection and knowledge of the art of the beauty. I was astonished when my Lorrain arrived and am proud, that Mike signed it with his name for me.
Coast Scene with Europa and the Bull
1634
Oil Painting
$3751
Canvas Print
$64.80
SKU: LOC-17699
Claude Lorrain
Original Size:170.8 x 199.7 cm
Kimbell Art Museum, Fort Worth, USA
Pastoral Landscape
1677
Oil Painting
$2146
Canvas Print
$50.86
SKU: LOC-17700
Claude Lorrain
Original Size:57.2 x 82.2 cm
Kimbell Art Museum, Fort Worth, USA
Wooded Landscape with a Brook
1630
Oil Painting
$1860
Canvas Print
$49.10
SKU: LOC-19015
Claude Lorrain
Original Size:99 x 149 cm
Fuji Art Museum, Tokyo, Japan