Examples of Quality - Video
Video of the process of creation of oil painting reproduction in our studio.
We are academy educated European painters and we create our paintings only with museum quality.
---
Reviews
(1)
Topic
:
The Baptism of Christ, c.1597/00 by El Greco

Gygy
El Greco - Baptism of Christ

An accentuated, almost dizzying vertically develops in three leaps from the ground, from the kneeling Christ to the flight of angels to the symbol of the Holy Ghost. Compositional elements derived from Italian sources (linked diagonals, connection by means of triangular and rectangular figures, converging and diverging ellipses) persist, but these themes are invested with a new impetus by the pictorial technique which burns like a fuse over the surface. All traditional rules of painting are broken. The artist alters or contradicts dimensions, creates protruding masses or deep chasms on the canvas, pushes relationships almost to the breaking point. The picture is not frontal; it penetrates in a swift diagonal towards the upper part of the composition.
The thrust is accompanied by leaps or jumps which - if they still have Tintoretto as an antecedent - are produced in new ways. Light traverses the image with a kaleidoscopic variety and transmutes masses of colour and texture into radiance.
21st November 2015 7:58pm
Add Review
Location: Prado Museum Madrid Spain
Original Size: 350 x 144 cm
Oil Painting Reproduction
SKU: GEL-16751
Painting Size:
$
1432.00
Entirely Hand-Painted
Painted by Academy Graduated European Artists
Only Museum-Quality
+ 4cm (1.6") Borders for Stretching
Creation time: 6-7 weeks
Ships Free!
If you want a size which is different from the one being offered, please contact us.
---

Over 20 Years Experience

Only Museum Quality
Medium:
This painting reproduction will be completely painted by hand with artist grade oil paints on a blank linen canvas. We add additional 1.6" (4cm) of blank canvas above the offered size which will be used to stretch the canvas on a stretcher-bar.
The Time it Takes to be Created:
To paint your
Domenikos Theotokopoulos El Greco
Hand-Painted Art Reproduction time is needed. The painting should not be made too hastily, nor should any deadlines be pursued. For the painting to acquire high quality and precision of detail, time is necessary. It also needs time to dry in order to be completely ready for shipping. Depending on the complexity, the level of detail, and the size of the painting, we'll need 6-7 weeks to make the painting.
Should a change of deadlines become necessary, or should your order arrive at a time when we are overloaded with work, then we will notify you by e-mail concerning how much time we would need to complete your painting reproduction.
Shipping:
We do not frame our oil painting reproductions. Hand-Painted Art Reproduction is an expensive product, and the risks of damaging a painting stretched on a frame during transportation are too high.
The Baptism of Christ
by
El Greco
is, therefore, not framed, and will be sent to you rolled up and packaged in a strong and secure postal tube.
You can check the price for shipping of the order on the shopping cart screen.


The paintings we create are only of museum quality. Our academy graduated artists will never allow a compromise in the quality and detail of the ordered painting. TOPofART do not work, and will never allow ourselves to work with low quality studios from the Far East. We are based in Europe, and quality is our highest priority.
Title:
Saint Andrew and Saint Francis
Artist: Domenikos Theotokopoulos El Greco
SKU: GEL-16752
Original Size: 167 x 113 cm
Location: Prado Museum Madrid Spain
Saint Andrew and Saint Francis
Oil Painting
$679
Canvas Print
$47.92
Artist: Domenikos Theotokopoulos El Greco
SKU: GEL-16753
Original Size: 312 x 169 cm
Location: Prado Museum Madrid Spain
The Crucifixion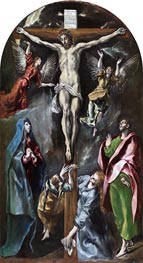 Oil Painting
$1261
Canvas Print
$48.9
Artist: Domenikos Theotokopoulos El Greco
SKU: GEL-16754
Original Size: 275 x 127 cm
Location: Prado Museum Madrid Spain
Pentecost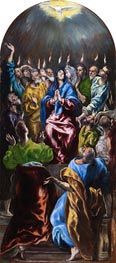 Oil Painting
$1546
Canvas Print
$47.9