Location: Private Collection
Original Size: 122 x 88.4 cm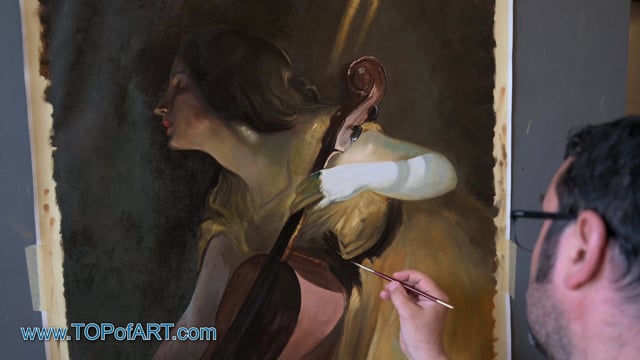 Video of the process of creation of oil painting reproduction in our studio.
You may watch a video showing a painting being made in our TOPofART studio. Hand-painted reproduction: step by step creation of A Ray of Sunlight (The Cellist) by John White Alexander
1 Reviews
5.00 Overall rating
---

Elviz
Verified Reviewer
20th May 2021 6:29pm
I've just received my painting "Ray of Sunlight", and I'm very very happy with it!!! I can recommend it to anyone. I not only smell the paint, but also the love for their work. The contact with Mr. Orlov is very honoust, and nice. The delivery of the painting from Bulgaria to Germany only took 1 Day!!! I was informed that it was on its way, but I could have never ever imagined to hold it in my hands, in such a short time. Let me end by saying that you can safely order your paintings here, and you'll receive in turn a high quality painting that you'll love! Good painters make real paintings :) Thanks again, Mr. Orlov! I'm looking forward ordering my next one. Perhaps a Degas!