Location: Private Collection
Original Size: 46 x 70 cm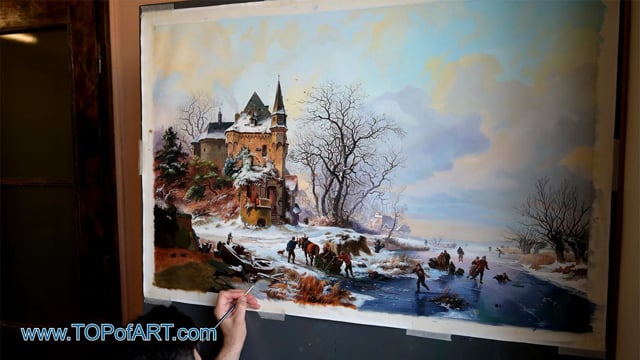 Video of the process of creation of oil painting reproduction in our studio.
You may watch a video showing a painting being made in our TOPofART studio. Hand-painted reproduction: step by step creation of Winter Landscape with Skaters in front of a Castle by Kruseman
2 Reviews
5.00 Overall rating
---

Wilhelm Härtl
Verified Reviewer
29th October 2020 7:33pm
Von dem wunderschönen Gemälde in der gewünschten Größe von 66 x 100 cm sind wir begeistert. Es hat alle unsere Erwartungen an eine hochwertige Ölgemäldereproduktion weit übertroffen: sehr detailgetreu, brillante Farben und eine hervorragende Leinwand. Eine Meisterleistung allererster Güte, und das zu einem erstaunlich günstigen Preis. Das auf der Internetseite eingestellte Video über die Entstehung unseres Gemäldes ist ein beeindruckender Anschauungsunterricht wie Ölgemälde großer, alter Meister in exzellenter Qualität handgemalt reproduziert werden können. Einfach großartig. Vielen Dank auch für die stets sehr gute Kommunikation, von der Bestellung bis zur Auslieferung. Der Versand des Gemäldes in einem Versandrohr erfolgte per DHL Luft-Express, so dass es nach 2 Tagen in München zugestellt werden konnte.

Art
Verified Reviewer
2nd October 2020 8:51am