Location: Philadelphia Museum of Art Pennsylvania USA
Original Size: 73.7 x 92.9 cm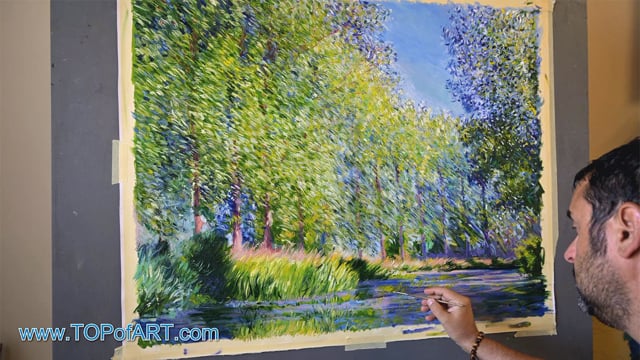 Video of the process of creation of oil painting reproduction in our studio.
You may watch a video showing a painting being made in our TOPofART studio. Hand-painted reproduction: step by step creation of A Bend in the River Epte, Near Giverny by Claude Monet
2 Reviews
5.00 Overall rating
---

Sloneranger
Verified Reviewer
19th March 2014 11:30pm
I ordered, "A Bend in the River Epte, Near Giverny, 1888" and am quite pleased with the painting that I received. It is a nice bright spring day and closely matches the coloring of the original as shown by a picture on the Philadelphia Museum of Art website. It appears more yellow in the video due to the lighting apparently. The painting I received looks like the website picture, only better in person of course.

Art
Verified Reviewer
18th March 2014 10:14pm