Location: The State Hermitage Museum St. Petersburg Russia
Original Size: 262 x 205 cm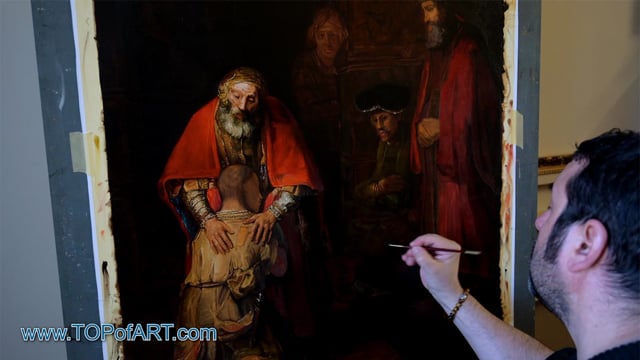 Video of the process of creation of oil painting reproduction in our studio.
You may watch a video showing a painting being made in our TOPofART studio. Hand-painted reproduction: step by step creation of The Return of the Prodigal Son by Rembrandt
2 Reviews
5.00 Overall rating
---

Robert
Verified Reviewer
3rd April 2020 8:01pm
We have commissioned three paintings from Michael and Top of Art. We have received the two cited above. Both are beautifully done with careful attention to both color and technique. It is clear that they understand classic brush strokes and process including careful sketching to maintain the symmetry of the originals. One should be patient in their production as I am not sure it is always clear from the web site the production timeline. Our experience has been about 3-4 months per painting. I share this not as a criticism but as a helpful management of expectations so that all parties are happy. The wait is certainly and exceedingly worth it if you value quality and care. Peace be with you all!

Art
Verified Reviewer
3rd October 2017 10:40pm