Location: Boston Museum of Fine Arts Massachusetts USA
Original Size: 182 x 98 cm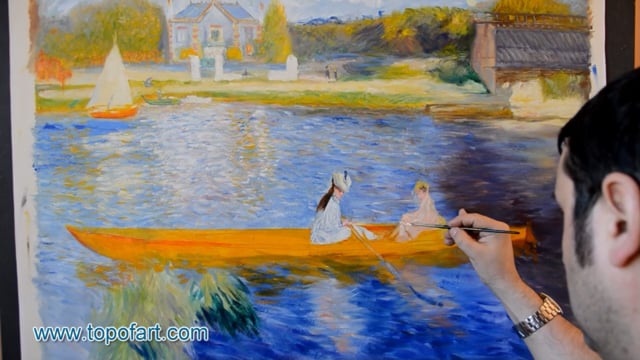 An Illustration of the Quality of Renoir Painting Reproduction - A Video Demonstration
View a video that showcases the step-by-step creation of Renoir painting in our TOPofART studio. This video provides an in-depth look into the intricate process of creating a hand-painted oil reproduction of a classic masterpiece.
2 Reviews
5.00 Overall rating
---

Joe L
Verified Reviewer
1st June 2021 9:18am
We received the Renoir painting "Dance at Bougival" today. It is wonderful!! This is the fifth painting we have ordered from TOPofART and they have all been outstanding.It is a great reproduction of the original painting. The details and the colors are fantastic. Once again, you have done a magnificent job. Thank you so much for a fabulous painting that we will enjoy for many years to come.

Christy
Verified Reviewer
19th June 2019 10:11am
Finally got this piece framed. It is perfect. I love the colors. This one is also a lot better than the smaller version 38.8 x 71 cm (15.3 x 28 in) I got from you before. I love the vivid and sharp colors!!!
Is it because of the bigger size that makes the difference? The previous one is good but still looks different?
Thank you.