Location: Detroit Institute of Arts Michigan USA
Original Size: 83.8 x 67 cm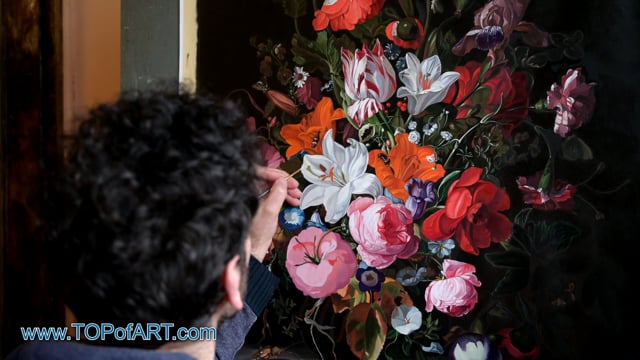 Video of the process of creation of oil painting reproduction in our studio.
You may watch a video showing a painting being made in our TOPofART studio. Hand-painted reproduction: step by step creation of Flowers in a Glass Vase by Rachel Ruysch
1 Reviews
5.00 Overall rating
---

Eugene and Lioubov
Verified Reviewer
24th January 2021 11:59pm
We have just received 'Flowers in a Glass Vase' by Rachel Ruysch. We are very happy and impressed with very professional work completed by TOPofArt team.
The quality of the painting is superb. Each individual flower is a masterpiece by itself. A lot of attention was given to every detail.
We have seen the original painting in the Detroit Institute of Art and can confirm that our copy looks nice and beautiful! We express our gratitude to Michael and Nickolay, whose art skills are perfect. Excellent job!
We highly recommend TOPofART to everyone who is interest in getting high quality paintings.